Entrepreneurship - Stretch your wings! When? 
All entrepreneurs start their business with growth in mind. But expanding a business very quickly without proper plan or foresight can lead to very bad damages.
Taking one wrong step with respect to expansion may lead to devastating results. Hence it is important to study and make sure your startup is ready for expansion before taking that one extra step.
When you have expansion in mind, start looking for pointers.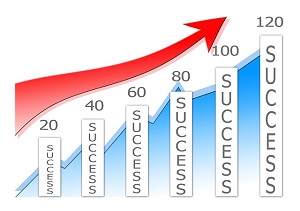 The first indicator for growth comes when there is more demand for your product or service.
When you start your business, you look for new opportunities or customers. As your business grows you get more and more orders.
When new customers reach out to you, without you approaching them, you know for sure your startup has a reached a certain level and is ready for an expansion.
Second sign comes when you meet or exceed your set goals.
Let's think of a simple online shop. The goal of the new shop is to serve atleast five thousand orders per month for two consecutive months.
When the shop achieves its target by selling 5000 or more products for two consecutive months, they have reached their initial goal.
This means they have their presence felt. Now they can think about increasing their presence by adding more products or extending their delivery areas. Both should help the shop to reach out to more customers.
Other than the performance based indicators, MONEY is also essential to think about expansion.
Expansion is not a free service. It requires more manpower, additional office space and more production.
Hence having extra cash or credit available through the existing company or through some other means like bank loan is very essential while planning for an expansion.
Another important thing to be aware before thinking about expansion, is understanding your company's core strength.
Starting a new company and making it a success is a dream for many entrepreneurs. Hence during the initial days, diversifying from the actual service provided or core areas to obtain customer satisfaction is quite natural.
But as a leader you should also know when to say NO. Growth and expansion makes sense only when you know your core strength and stick to it.
With all being said, a strong leadership is very essential for a startup to succeed. Without leadership you can go nowhere!
As they say, a leader is one who knows the way, goes the way and shows the way.